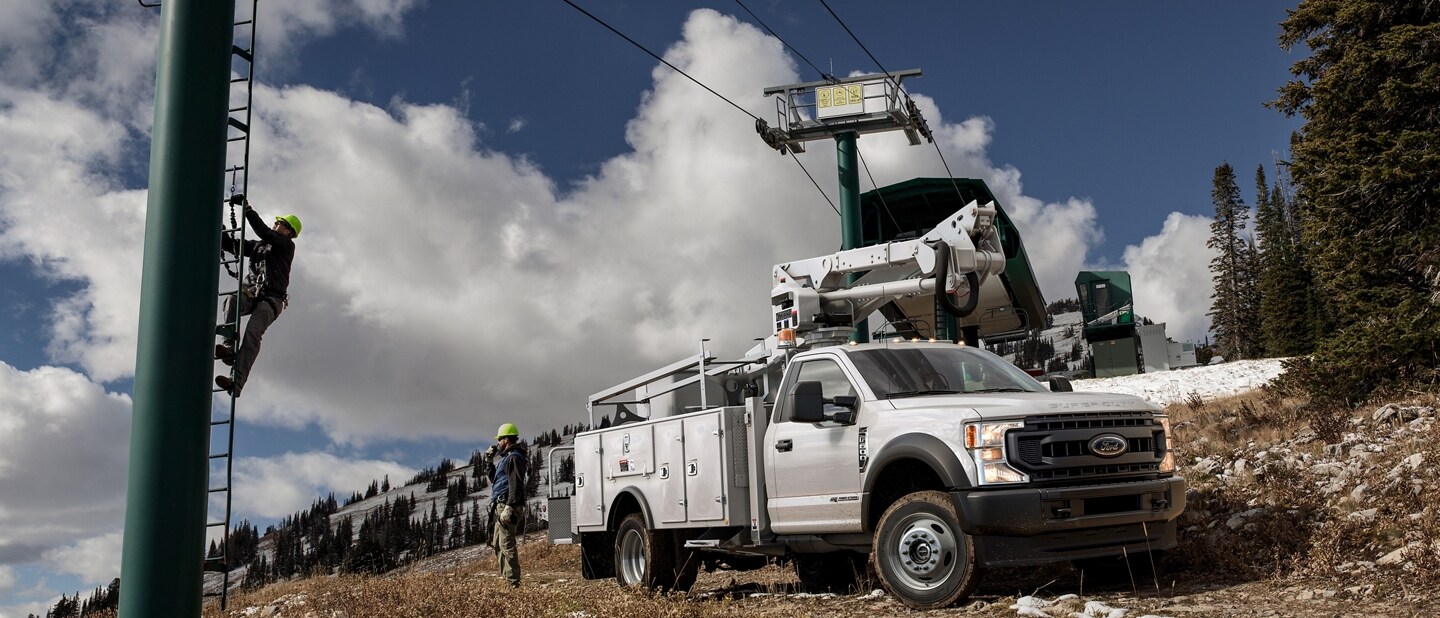 Commercial/Fleet Sales
Whether you are a Small Business or a Large Corporation, Gaudin Ford's Commercial/Fleet Department can handle your needs. We understand that time is money and we don't want to waste yours.
With our Commercial/Fleet Department you can be confident that we will handle your transportation needs quickly, friendly, and accurately. We will show you all the options for configuration, pricing, financing, and leasing that is sure to give your business the advantage. We are only the best because we will only use the best. Please visit some of our corporate partners below to see different specifications and applications we can provide for you.
Our Corporate Partners
Harbor Truck Bodies
At Harbor, our commitment to quality and continuous improvement is evident in everything we do. Our mission is your complete satisfaction with our products. That's why GMC Truck honored Harbor in 1996 as the highest quality service body manufacturer in America! The following year we received a perfect quality score from GMC. In addition, Harbor is the only US service body manufacturer to export service bodies to Japan meeting the toughest import quality standards on the planet.
The Knapheide Manufacturing Company
After 150 years of operation, The Knapheide Manufacturing Company has evolved into the nation's premier producer of steel service truck bodies and platform/stake style truck bodies.Our company has seen a lot of changes over the years, but one thing that will never change is our focus of meeting customer expectations.
Marathon Industries, Inc.
Marathon's heritage in the truck body industry goes back over thirty five years. Marathon Industries, Inc. is a California-based corporation. The company occupies ten-plus acres of production, chassis storage and administrative space. It's designated manufacturing space is approximately 100,000. square feet. Marathon's main business is the manufacturing, assembling, installing and repairing truck bodies, trailers and transportation equipment of various kinds and design. MARATHON IS A SINGLE SOURCE FOR MOST STYLES OF TRUCK BODIES AND/OR EQUIPMENT. The company is a member of the National Truck Equipment Association. Whatever the transportation challenge or special opportunity facing you or your customer, Marathon's qualified staff can help with direct in field or phone sales consulting and support.
Supreme Corporation
Supreme Industries, Inc. is a holding company for Supreme Corporation located in Goshen, Indiana. Supreme is a nationwide manufacturer of specialized mobile commercial vehicles designed and manufactured to provide superior transportation solutions for a wide range of markets. With regional manufacturing plants in six states, a nationwide sales and distribution network, the broadest product line in the industry and strong relationships with all major truck chassis manufacturers, Supreme is better able to offer each customer a completed vehicle that meets their unique transportation requirements at a competitive price.
Royal Truck Body
Since 1971 Royal Truck Body has dedicated itself to delivering top-quality products at competitive prices. Our engineering, production, and design team's commitment to quality has enabled Royal Truck Body to become the leading truck service body company in the Western United States. We have 300,000 square feet of manufacturing space

Our mission is to fulfill the needs of our customers, and in doing so, exceed their expectations for service, quality and value. At Royal Truck Body, we have the right truck for your business!.